Turn any room into tranquility
Bring a summer vibe to any space all year round!
Ideal Lighting For Warm, Rustic Social Content
360 Rotation, Light Up An Entire Room
Charge all at once,
Revolutionize charging
With our 3-in-1 wireless charging station, you can wirelessly charge all of your devices simultaneously. This not only saves you time and frustration, but it also saves you space by eliminating the need for multiple chargers. Our fast wireless charging technology means that you'll never have to wait long for a full battery again.
Charge 3 devices simultanously

Eliminate messy & tangled cords
We've Helped 30,000+ Customers Declutter Their Cables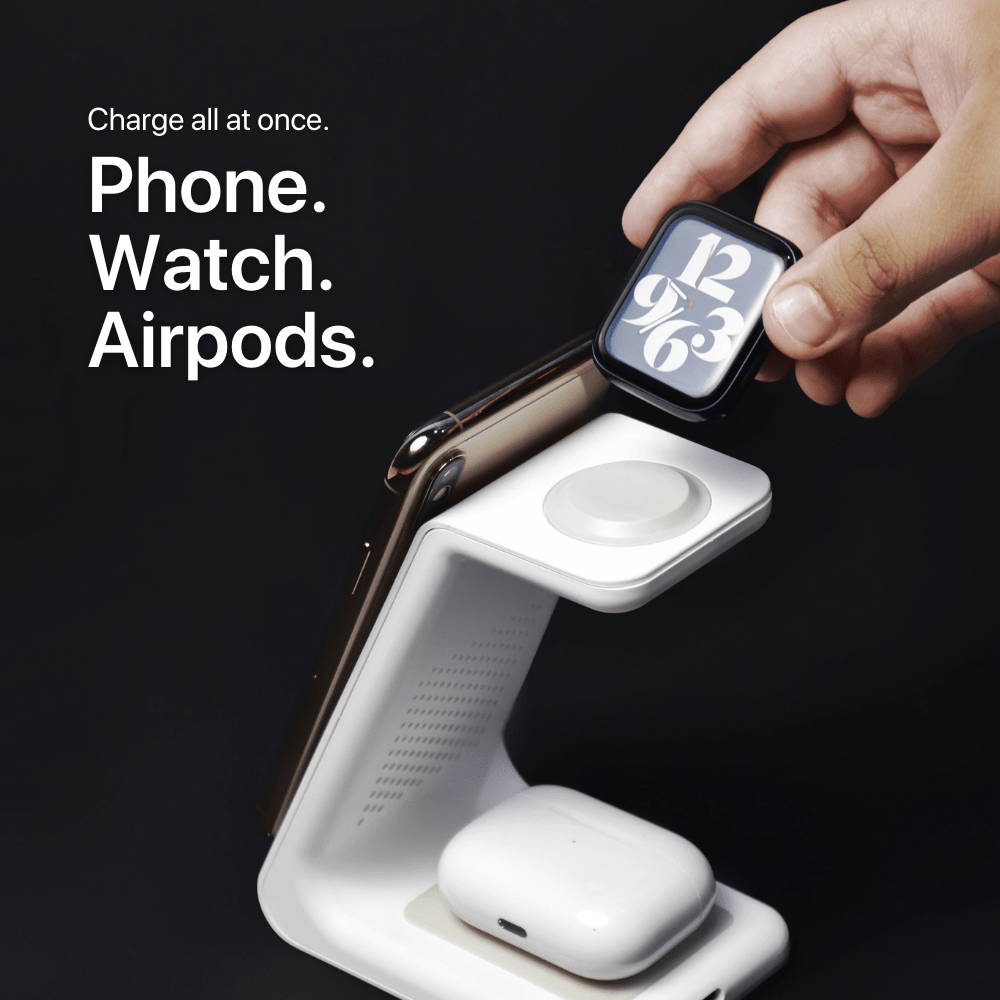 15W Fast Wireless Charging
Boosting wireless charging by up to +40%.
Built with two Qi wireless chargers and 18 powerful copper coils, made to charge any Qi-enabled smart-devices.
The Apple Watch charger comes equipped with a magnet inside the coil to keep your watch safe and secure while charging. No fiddling with the Apple watch cord no more. Effortlessly drop and go.
Put any Qi-enabled smart-device down to charge, whether it's an iPhone, Airpods, Huawei P40 Pro, Samsung Galaxy Note 10/ Note 10+.
One Spot For All Your Smart Devices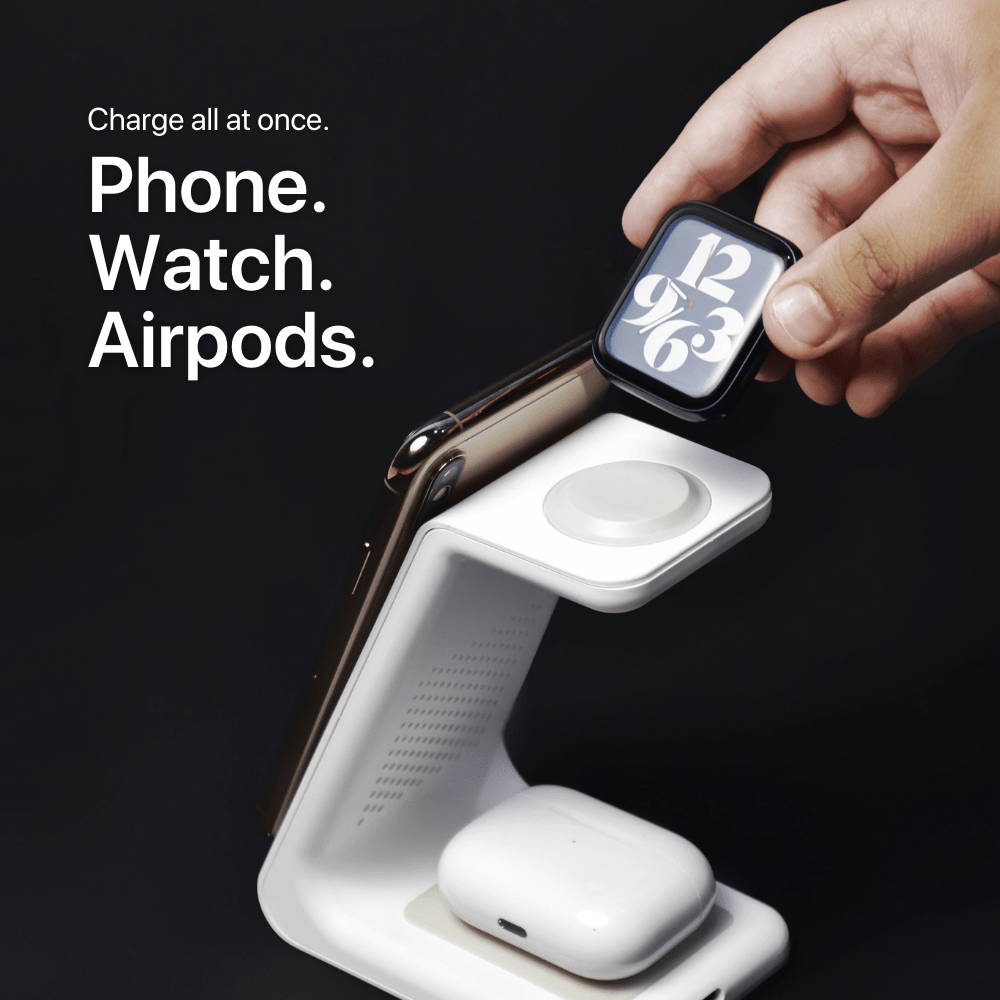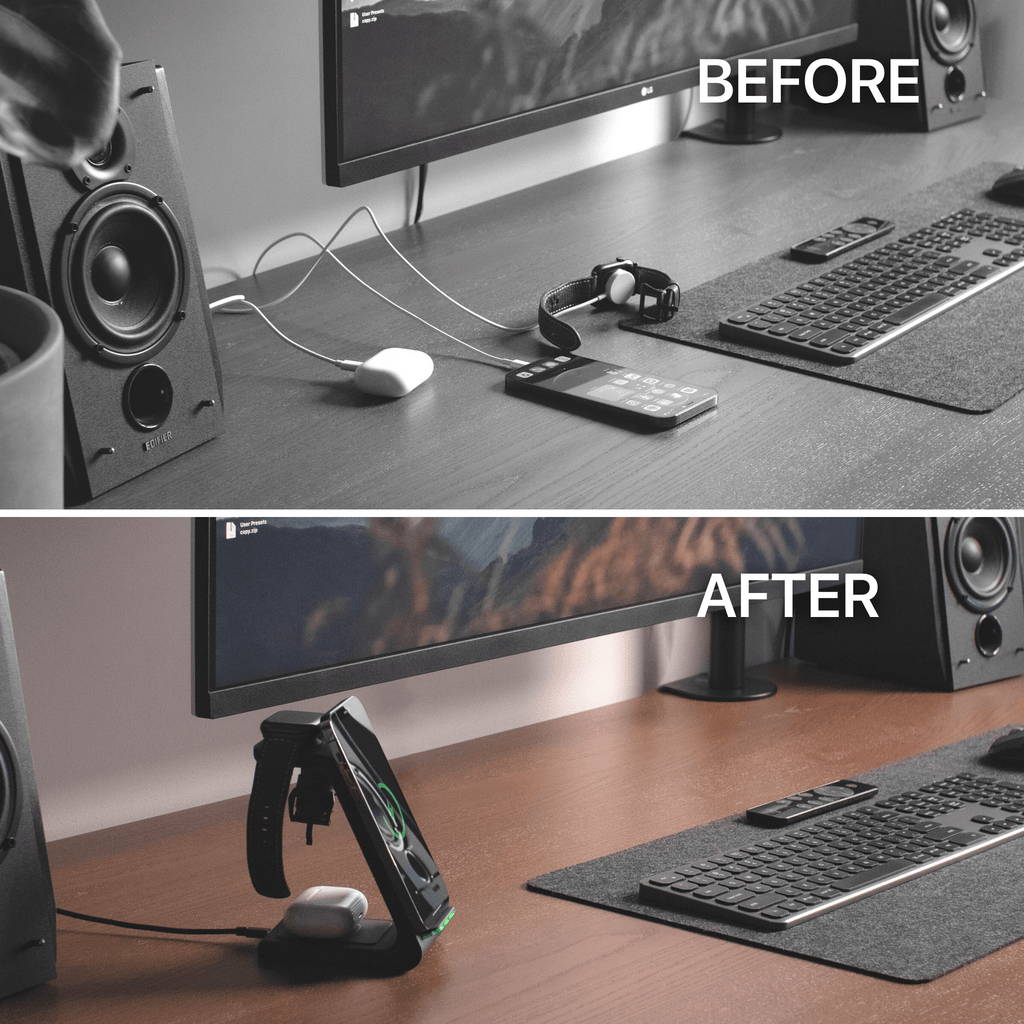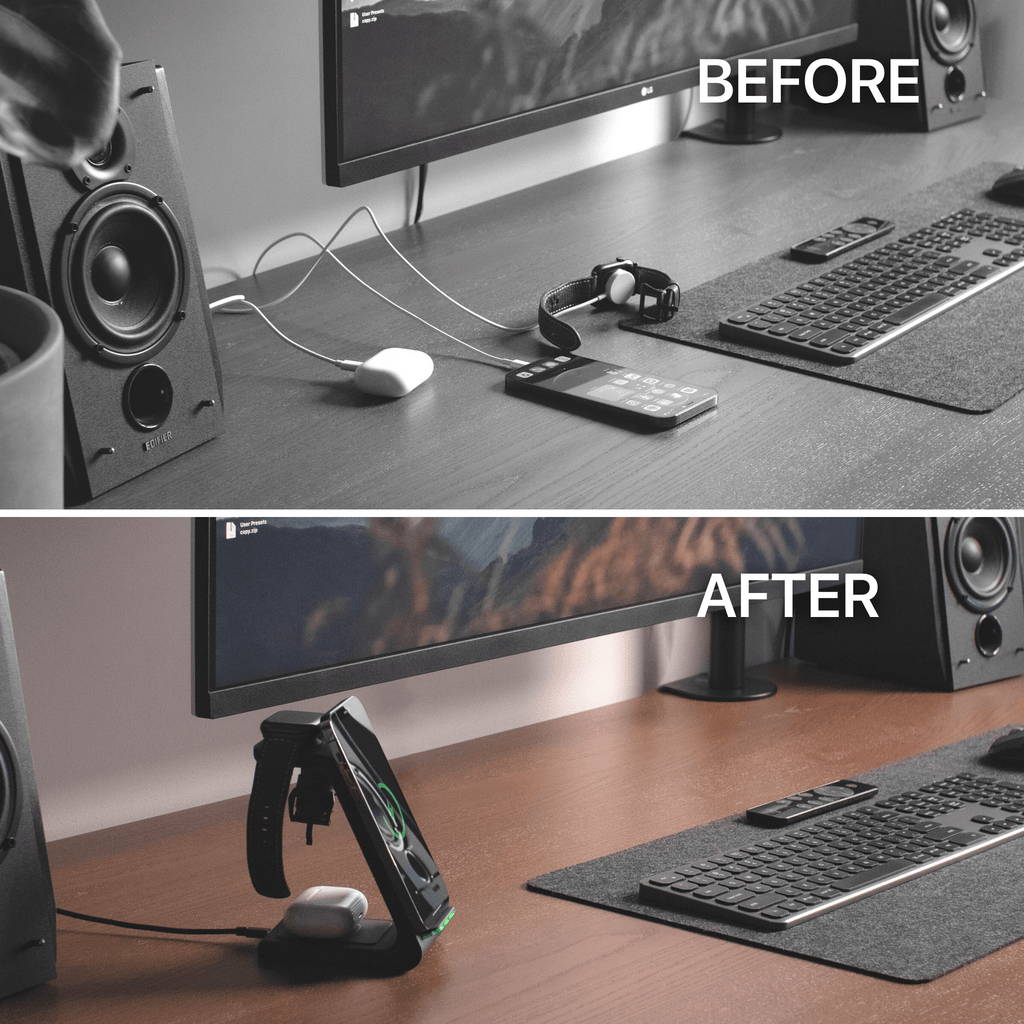 Our 3-in-1 charging station keeps your desk, bedroom, and office neat, tidy, and most importantly, cord-free.
Reduce dust build up and keep all your devices in one organized location, so you can stay alert with notifications while keeping a full battery all day, everyday.
Declutters your workstation, creating space and eliminating cords

Acts as a stand to view notifications when working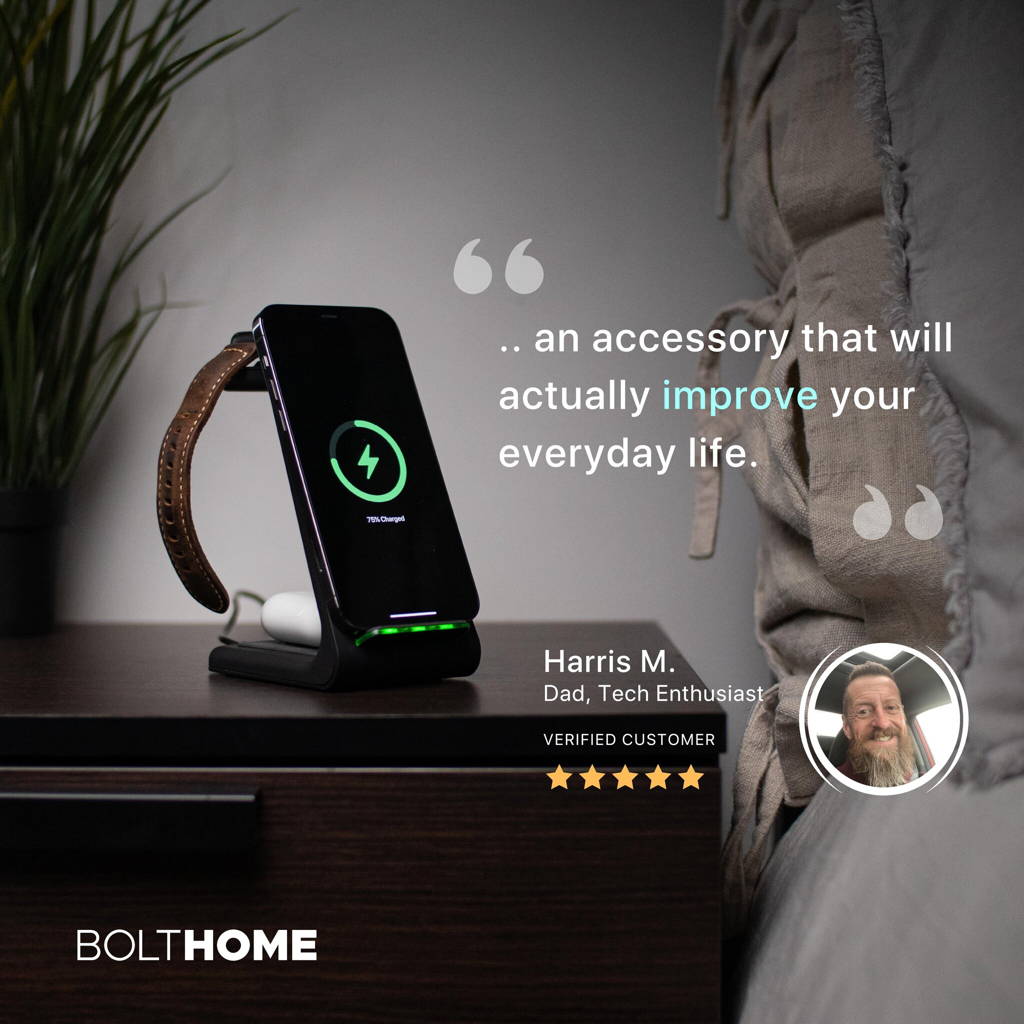 Ideal for your night-stand
The BoltHOME can charge your smart device horizontally or vertically. Whether your texting or binge-watching, you'll find a way to do so while charging your phone.
Also including whisper-quiet, sleep-friendly heat dissipation vents that keep your device cool, and prevent overheating.
Easy drop and go placement

No annoying, dangerous cords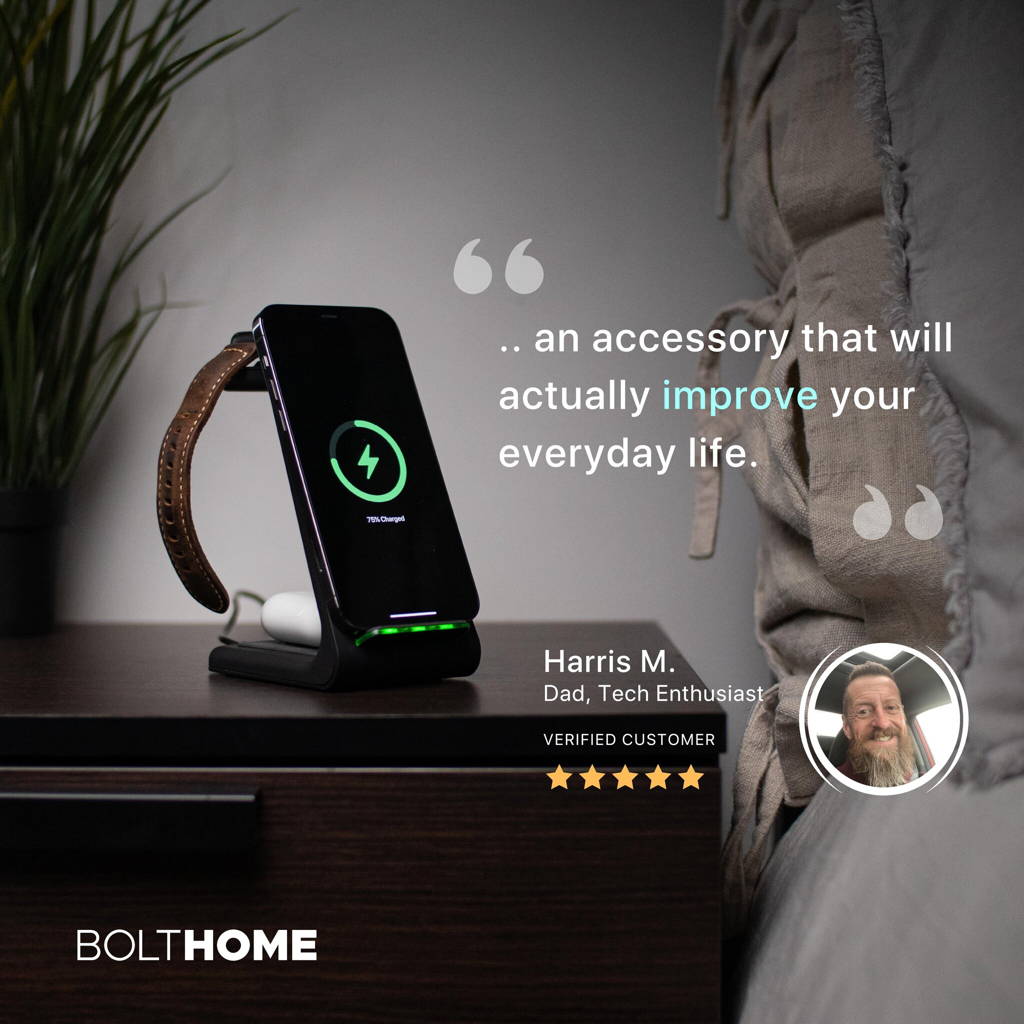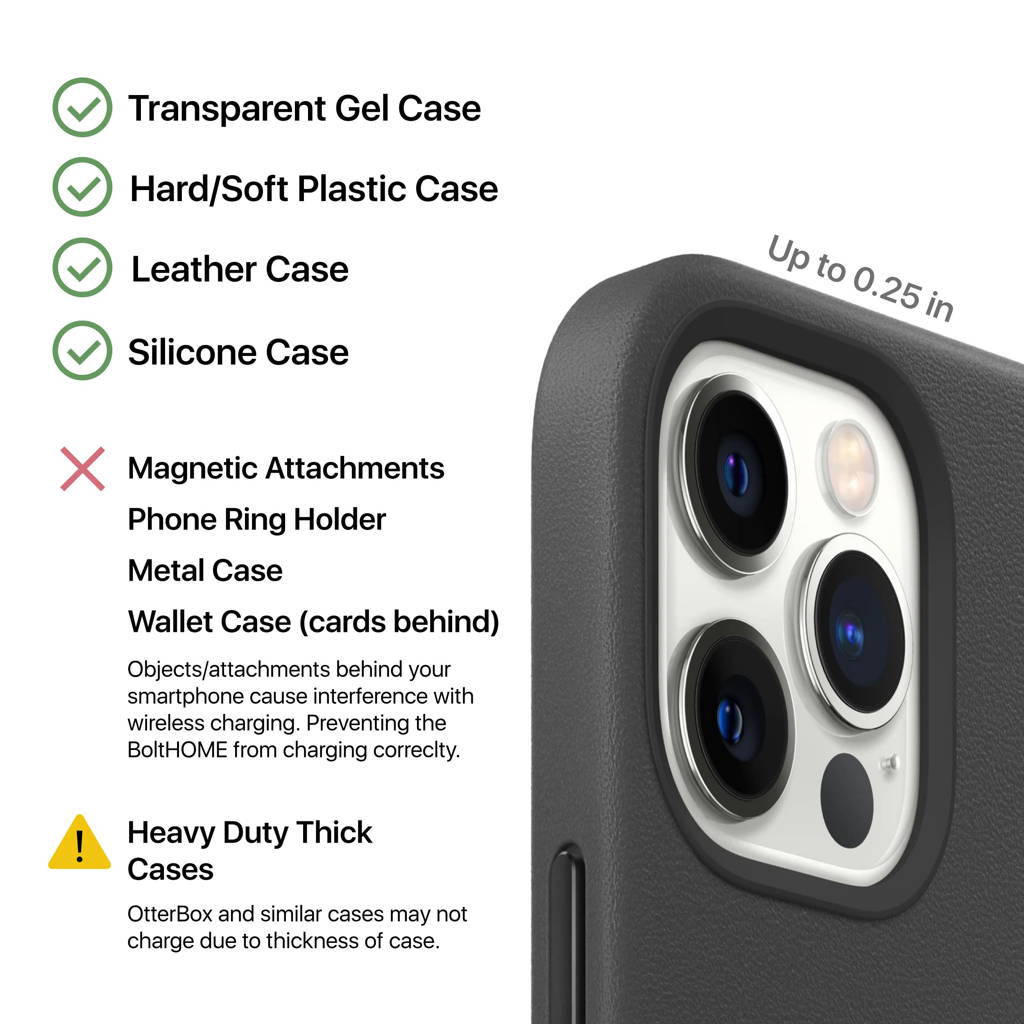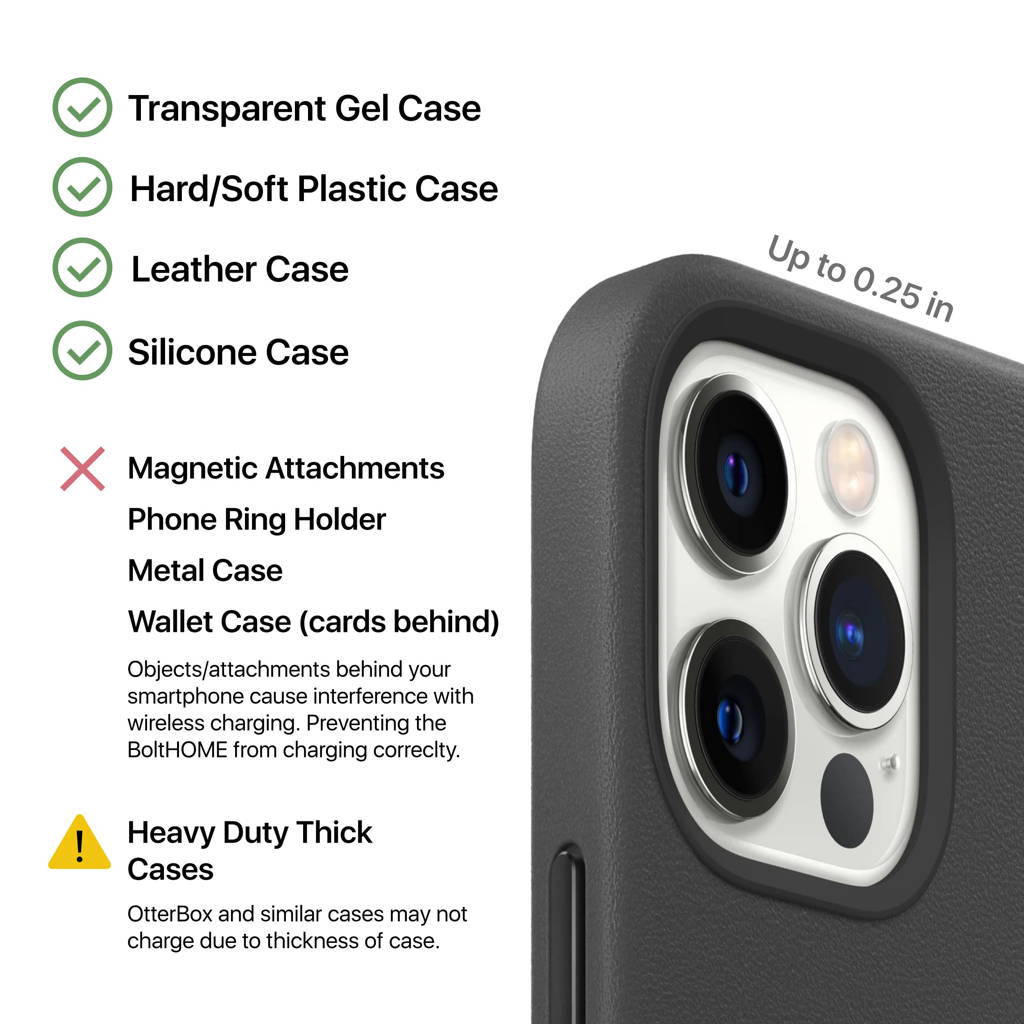 Our 3 in 1 Wireless Charging Station can charge through phone cases. So you don't need to remove your case. Remain protected while staying charged.
We've made our charger powerful so that it works through majority of case materials. Just drop your device and charge without any issues.
Compatible with all wireless charging enabled smartphones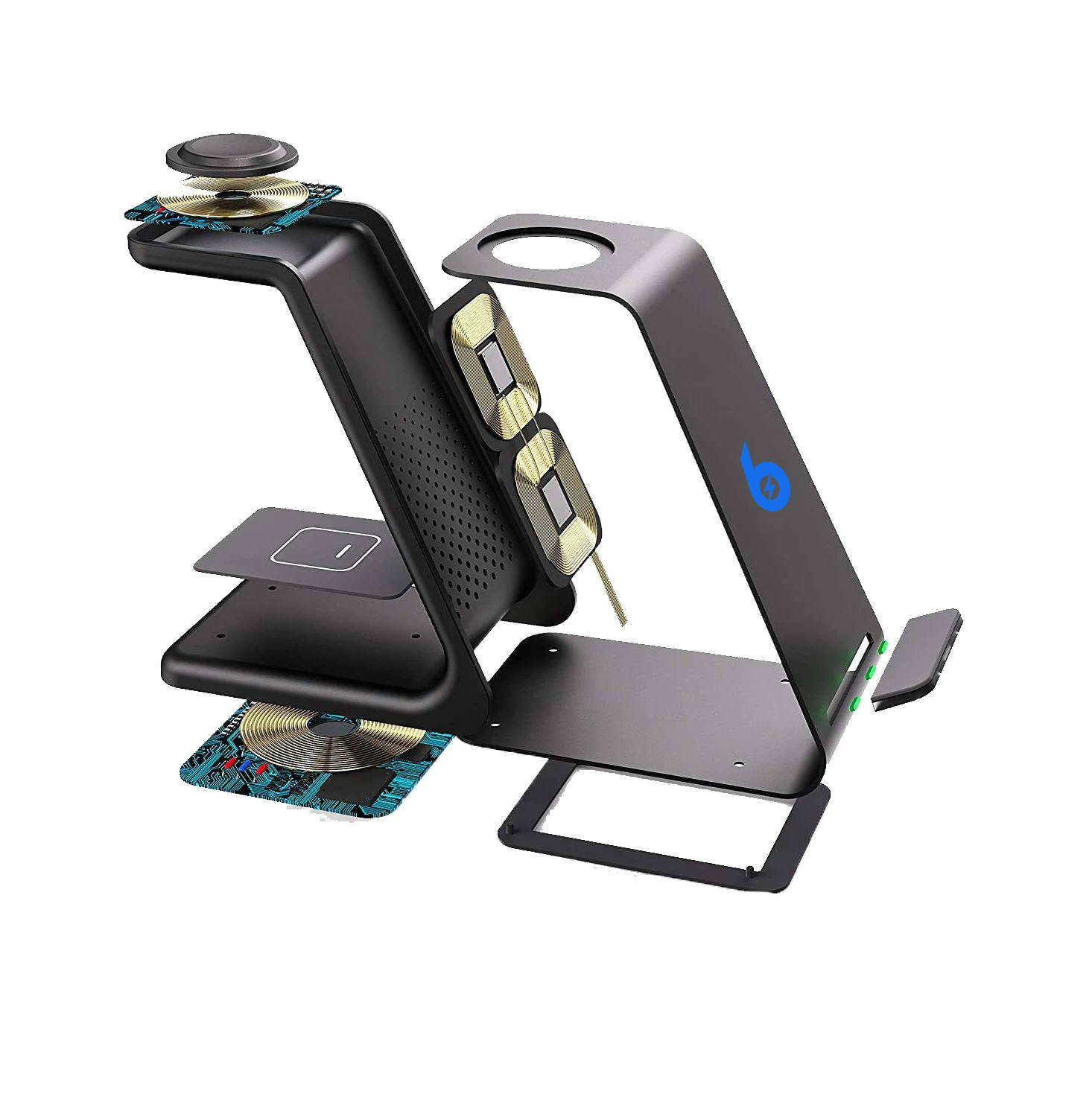 It doesn't get safer than this. The charging signal goes through most smartphone cases up to 0.25in.
* BoltHOME wireless charging is not compatible with metal cases.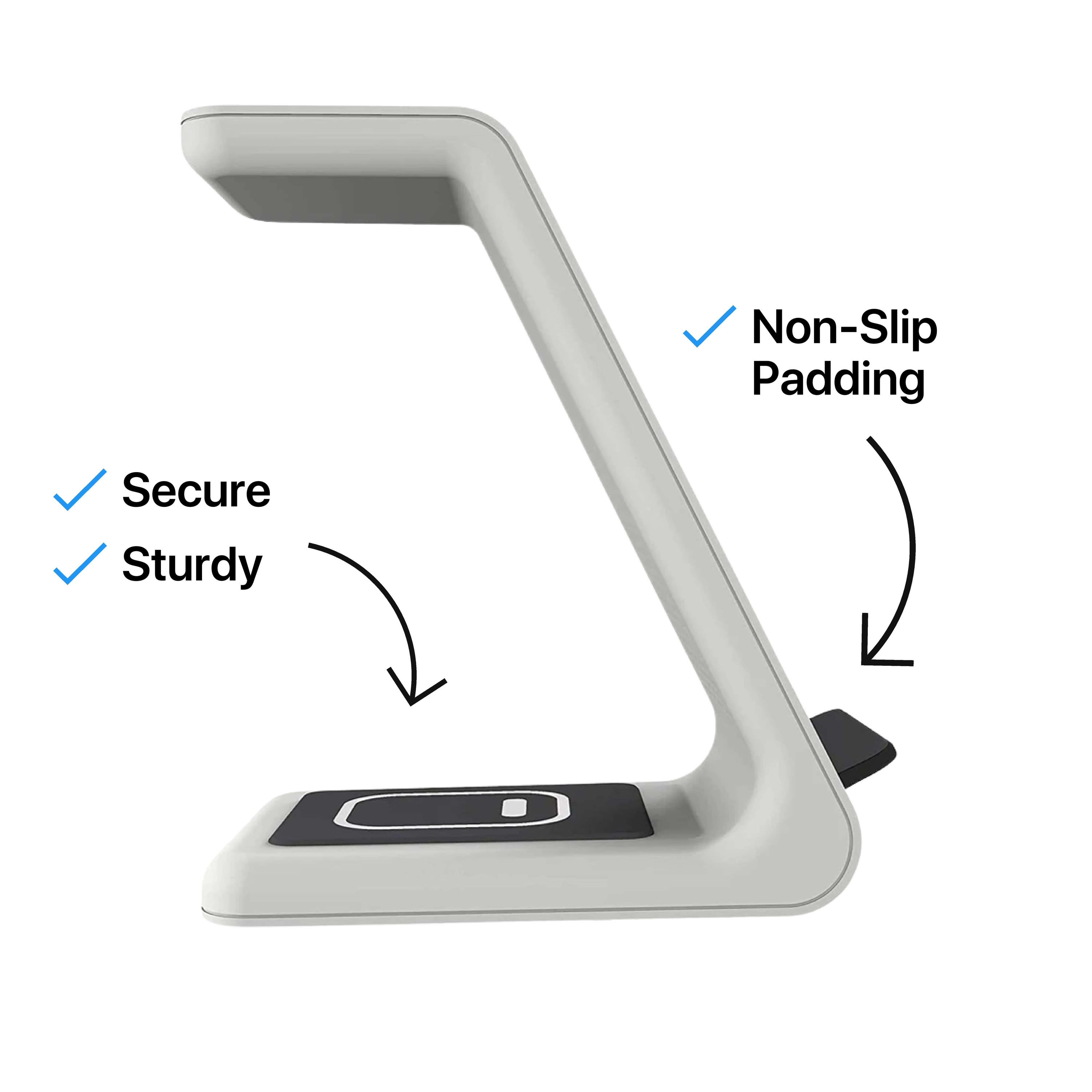 Plus, the fact of being a solid piece of technology, slick, sturdy designed, and features an anti-slip silicon pad makes it the safest place you can put your phone on.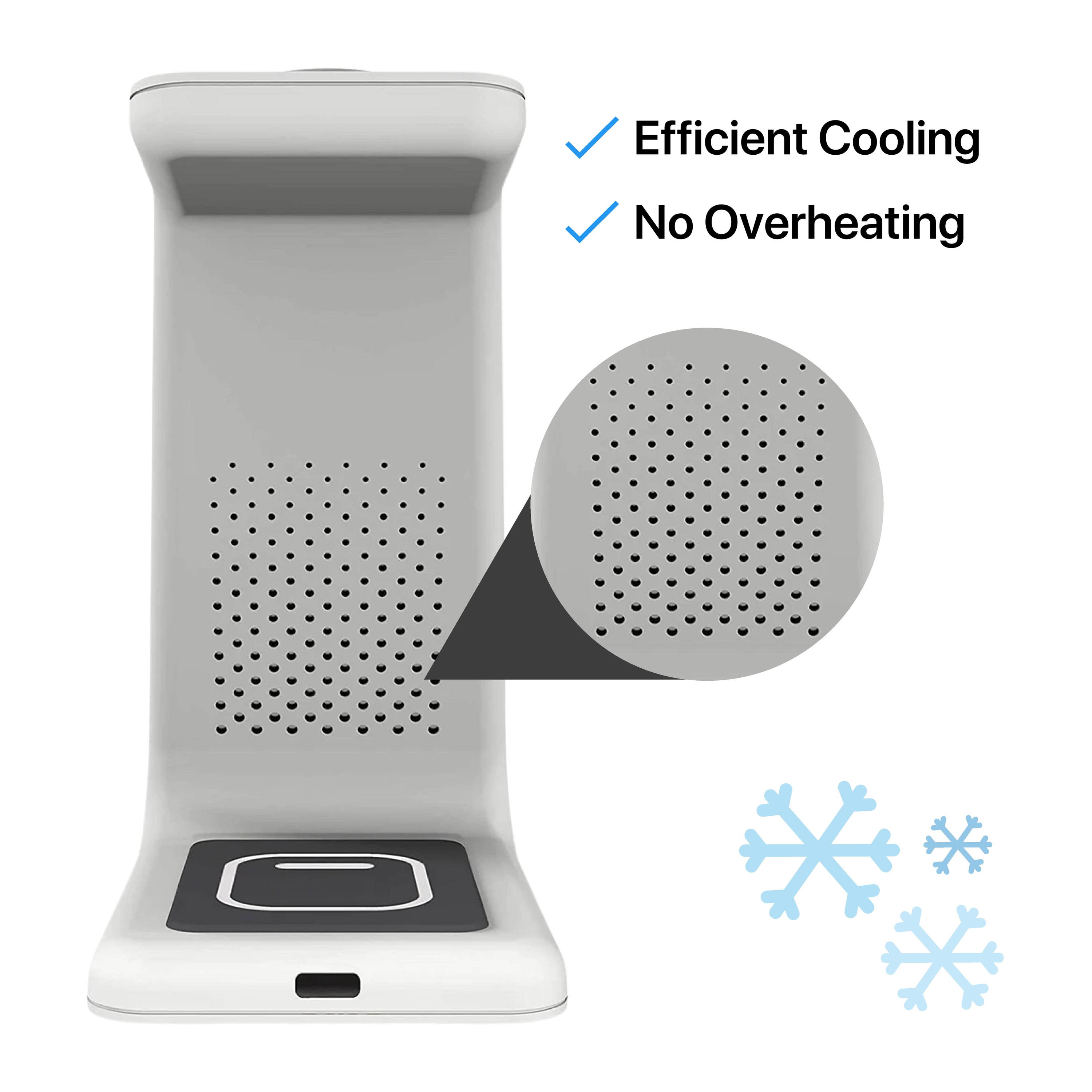 An ingenious way to keep your charging station working in mint, pristine condition. It prevents your devices from overheating and ensures optimum charging performance for years to come.
BlueBolt vs The Competition
| | | Others |
| --- | --- | --- |
| 3 charging pads | | |
| Tangle-free charging | | |
| Phone Case Friendly | | |
| Sleek, modern design | | |
| Keeps Phone Port Clean | | |
| Fast and efficient charging | | |
| 30 Day Money-Back Guarantee | | |
| 12 Month Warranty Included | | |
Limited Time Only
Unlock Huge Savings on Gift Bundles + Free Products
Swipe across and save big!